This lecture by Dr. Alison Walton occurred on Thursday, Notvember 4th.
Back to RX 413 - Therapeutics
Study Materials
Edit
Required reading:
Buys LM, Elliott ME. Osteoarthritis. In DiPiro JP, et al, eds. Pharmacotherapy, A Pathophysiologic Approach, 7th ed. New York, 2008: 1519-1537
Handouts:
Panopto:
Objectives
Edit
Explain the Etiology and pathophysiology of osteoarthritis and recognize the common risk factorsEdit
Pathopysiolgy
Normal function of articular cartilage in joint space:
lubrication with motion
shock absorbency
load support
reduce friction
Over time, events destabilize the normal cycle of synthesis and degredation involving articular artilage, chondrocytes, extracellular matrix, and subchondral bone.
Risk factors contribute to loss and/or damage of articular cartilage
biochemical, inflammatory, biomechanical, and immunologic factors are also involved.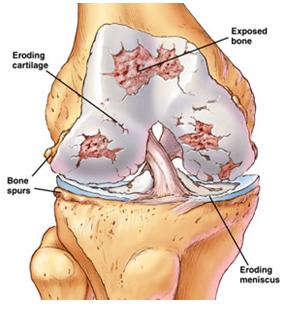 Clinical Presentation
Symptoms
Pain localized to affected joint

Early disease = pain with motion
Late disease = pain at rest

Joint stiffness
Limited range of motion
Crepitus (crackling or grating sound)

caused by irregular surfaces of the joint rubbing together
Physical findings
monoarticular - in young adult
Paurciarticular - in middle aged adults

affects large weight bearing joints
typically 1-4 joints involved

Polyarticular/Generalized OA - in middle aged or elderly adults

Most common
Affects many joints
Usually afflicts middle age adults 50+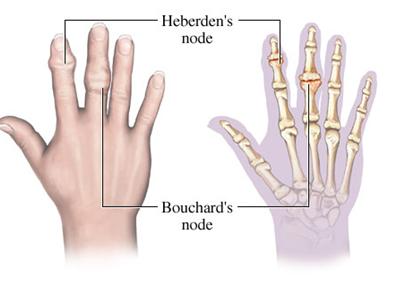 Joint Involvement (Primarily weight-bearing Joints)

Hand

Distal Interphalangeal joint = Herberden's node
Proximal interphalangeal joint = Bouchard's Node
First carpometacarpal joint

Knee
Hip
Foot

First metatarsophalangeal joint

Cervical and Lumbar Spine

Often particularly painful
Physical examination of joints

Tenderness to palpitation
Effusions
Crepitus
Bony enlargement
Decreased range of motion
Malalignment

Laboratory Tests

There is no specific test to confirm the diagnosis of OA
Erythrocyte sedimentation rate (ESR) <20mm/hr
Rheumatoid factor negative
Evaluation of synovial fluid (WBC <2000 cells/mm3)

Making sure that the inflammation is mild and localized

Radiographic Findings

Joint space Narrowing
Osteophytes

Common risk factors for osteoarthritis include:
Obesity - the number one preventable risk factor for OA
Strongly associated with hip, knee, and hand OA
Often precedes OA and contributes to development
Weight loss decreases future risk
Occupation, Sports, Trauma related stress
Activites involving repetitive motion
workers exposed to repetitive stress through manual labor
Associated with sports injuries or joint trauma (even injuries early in life can increase later risk)
Genetic factors
There has been some progress in identifying and understanding the contributions of genetic variation
opens opportunities for new medications
Describe the clinical presentation and know the goals fo therapy for osteoarthritisEdit
Develop and alter a treatment plan for pharmacologic and nonpharmacologic management of osteoarthritisEdit
Design a treatment plan in patients with risk factors for gsatrointestinal, renal, or cardiovascular toxicity with NSAIDSEdit
Identify drug and disease state interactions in patients with osteoarthritisEdit
Recommend appropriate adjunctive and/or nonpharmacologic therapy in patients with osteoarthritisEdit
For the following drugs, list the brand and generic names, therapetuic uses, usual starting doses, mechanism of action, monitoring parameters, common and or/clinically significant side effects, drug interactions and key points of patient educationEdit
Acetaminophen (Tylenol)Edit
Therapeutic use
Usual starting doses
mechanism of action
monitoring parameters
common/significant side effects
drug interactions
key points of patient education
IbuprofenEdit
Therapeutic use
Usual starting doses
mechanism of action
monitoring parameters
common/significant side effects
drug interactions
key points of patient education
Therapeutic use
Usual starting doses
mechanism of action
monitoring parameters
common/significant side effects
drug interactions
key points of patient education
Therapeutic use
Usual starting doses
mechanism of action
monitoring parameters
common/significant side effects
drug interactions
key points of patient education
IndomethacinEdit
Therapeutic use
Usual starting doses
mechanism of action
monitoring parameters
common/significant side effects
drug interactions
key points of patient education
MeloxicamEdit
Therapeutic use
Usual starting doses
mechanism of action
monitoring parameters
common/significant side effects
drug interactions
key points of patient education
NabumetoneEdit
Therapeutic use
Usual starting doses
mechanism of action
monitoring parameters
common/significant side effects
drug interactions
key points of patient education
Therapeutic use
Usual starting doses
mechanism of action
monitoring parameters
common/significant side effects
drug interactions
key points of patient education
CelecoxibEdit
Therapeutic use
Usual starting doses
mechanism of action
monitoring parameters
common/significant side effects
drug interactions
key points of patient education
CapsaicinEdit
Therapeutic use
Usual starting doses
mechanism of action
monitoring parameters
common/significant side effects
drug interactions
key points of patient education
Diclofenac GelEdit
Therapeutic use
Usual starting doses
mechanism of action
monitoring parameters
common/significant side effects
drug interactions
key points of patient education
Glucosamine/ChondroitinEdit
Therapeutic use
Usual starting doses
mechanism of action
monitoring parameters
common/significant side effects
drug interactions
key points of patient education
Sodium HyaluronateEdit
Therapeutic use
Usual starting doses
mechanism of action
monitoring parameters
common/significant side effects
drug interactions
key points of patient education
Therapeutic use
Usual starting doses
mechanism of action
monitoring parameters
common/significant side effects
drug interactions
key points of patient education
FlavocoxidEdit
Therapeutic use
Usual starting doses
mechanism of action
monitoring parameters
common/significant side effects
drug interactions
key points of patient education
Back to RX 413 - Therapeutics